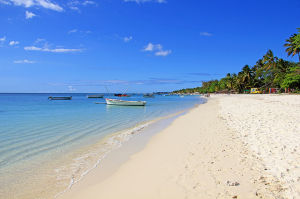 Sotheby's International Realty Affiliates LLC today announced that Espral International Ltd, a land and property development company in Mauritius, has joined its luxury real estate network and will now do business as Mauritius Sotheby's International Realty.
The firm, which is represented by Gilbert Espitalier-Noel as chief executive officer, will be managed by Diane Watkins and Timo Geldenhuys and serve the high-end real estate market throughout Mauritius.
"Our expansion into Mauritius continues our commitment to providing access to the Sotheby's International Realty network's exclusive real estate services in key countries around the world," said Philip White, president and chief executive officer, Sotheby's International Realty Affiliates LLC.  "Mauritius is a beautiful island nation in the Indian Ocean off the southeast coast of the African continent. Known for its blue seas, white sandy beaches and luxury hotels, the island is also home to significant luxury real estate offering a truly unique lifestyle.  We are proud to have this team of professionals represent us in this fine market. "
According to Geldenhuys, Mauritius is a relatively small market with a very distinct seperation between local and international buyers. "International buyers are only allowed to purchase in dedicated government approved developments and hence the local market prices are not inflated by international investment," he said.  "Cultural diversity within the local market demands the abilities of a skilled agent."
"We boast a young and dynamic team, driven by passion and excellence, with a culture that favors communication and discussion," said Watkins.  "We have an in-depth knowledge of the local market and our products. We believe the client always comes first and we go the extra mile to assist in finding the best fit for their needs.Now with the support of the Sotheby's International Realty brand we can bring our extraordinary properties to the far-reaching corners of the world."
The Sotheby's International Realty network currently has more than 16,500 sales associates located in approximately 760 offices in 60 countries and territories worldwide.  Mauritius Sotheby's International Realty listings are marketed on the sothebysrealty.com global website.  In addition to the referral opportunities and widened exposure generated from this source, the firm's brokers and their clients will benefit from an association with the Sotheby's auction house and worldwide Sotheby's International Realty marketing programs.  Each office is independently owned and operated.