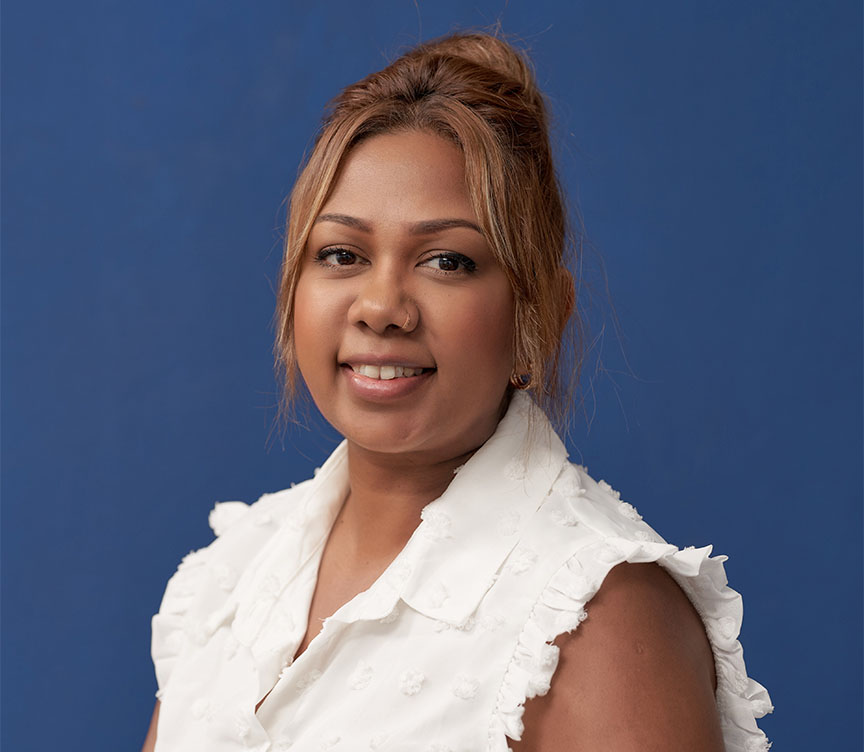 FABIENNE FRANCOIS
Sales and Office Administrator
Fabienne François, Sales and Office Administrator: "Simply The Best"
Tina Turner's lyrics definitely rhythm their way to best describe Fabienne. If for her Mauritius Sotheby's International Realty is "simply the best", for us, she is "simply the best". 
A professional singer in her free time, Fabienne is a sharp and efficient sales and office administrator, handling the whole administrative process of property acquisition for our clients, as well as the resident permits process for foreigners in record timing.
By doing so, she is the main point of contact for the agency between clients, government authorities, and notaries.
A degree holder in Business Communication, Fabienne roughly has 13 years of experience in the administrative field.
She started her career in real estate as a sales and office coordinator on the West Coast of the island, where she learned and refined her relational, organizational, and administrative skills; essentials to master, to secure and conclude deals.
Climbing up the ladders, she later joined an international real estate brand on the island, handling the sales procedures from that very instant a client signed their reservation agreement, all the way until the title deed gets signed.
Her Sotheby's International Realty Story
Fabienne joined the global Sotheby's International Realty family in 2020, a new beginning in her career.
"I wanted to up my game, get more responsibilities, and explore a larger business structure. I'm in a team where I'm trusted to carry out my administrative responsibilities as per my methodology. I joined Mauritius Sotheby's International Realty at that sensitive time when the brand was undergoing a new ownership transition. Together we refashioned the brand, implemented new processes, and applied new technologies to deliver a more efficient service. I learned a lot, and these were exciting times for all of us. In this new team, I was home since day one."
Exciting indeed but working with high-end property investors can also be stressful.
"I need to stay focused every second and available all the time. This sector and my job require my full attention and discipline. I need to stay alert to every government or legal policy change about property investment on the island, as well as maintain a good relationship with all stakeholders. Our clients place their utmost trust in us to handle all their administrative processes and best advise them. It's my responsibility to ensure that they have a stress-free and layback experience all along their buying journey from A to Z, and within deadlines." 
Why Mauritius Sotheby's International Realty?
For Fabienne, nothing compares to the Mauritius Sotheby's International Realty experience, whether you're a client or a staff member.
"We are a strong and elite global brand, be it for luxury real estate or through our auction house. Sotheby's International Realty is a leader in the high-end segment, and we inspire trust, integrity, modernity and tradition, glamor and so much more. Above all, Mauritius Sotheby's International Realty is a strong team, we do not have a weak link in our family."
Contact Fabienne: [email protected]